Fused Glass Fairy House in Yellow, handmade, one of a kind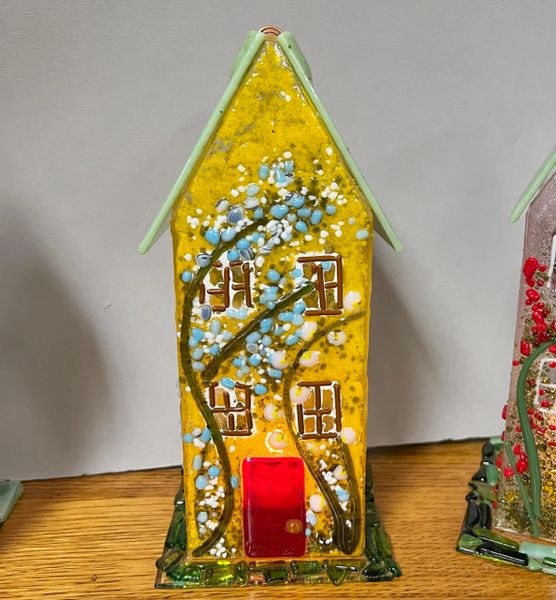 Fused Glass Fairy House in Yellow, handmade, one of a kind
This enchanting Fairy House handmade in fused glass by Teresa Kodatt is waiting for the perfect setting in your home! It would make the perfect night light in a child's room.
This four sided little house is adorned with flowering vines on all sides made with tiny pieces of glass in light blue, light pink, green and white. The walls are yellow with a "stucco" style texture and constructed with transparent glass so the light can shine through from the glow of a candle (not included) within. The mossy celadon green roof has an opening down the center to allow heat and oxygen flow for a lit candle inside if desired. The house sits on top of a separate piece of glass. The mosaic style fused glass border in multiple shades of green hold the house in place from sliding off and also give the candle a stable surface to sit on. 
Perfect paired with our handmade Flowering Spring Trees (see separate listing).
Size:  approx 9" High, 3.25" square on a 4.5" square base.
Caution - if used with a lit candle, the copper wire on the top of the roof can become very hot. Always lift the house up off the base by grasping the house not the roof.
Clean using normal glass cleaning methods. All glass colors are part of the glass chemical composition i.e. permanent and not painted on.
Reviews