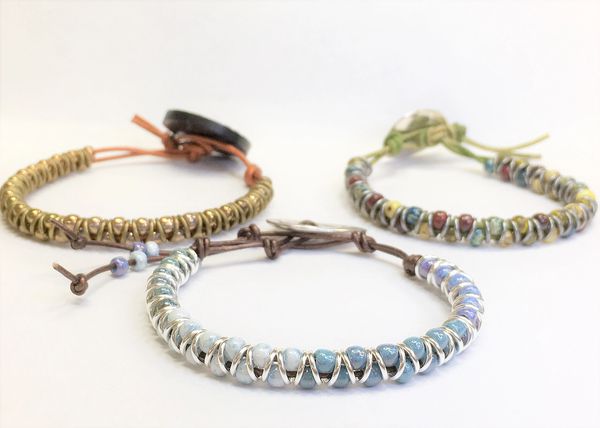 Chevron Bracelet Class
Join us to make the complicated looking but very simple bracelet!  We will teach you to combine glass beads and jump rings with leather to make this trendy bracelet that can be rustic or sophisticated depending on the beads and rings you choose.  Many bead and leather color combinations will be available to choose from.
Skill: Beginner Stringing
Kit Fee:  $15.99
Class Fee: $25 per person for a 2 hour class
Ages: 10 and up 

A minimum of 4 people is required for this class during normal business hours, and an 8 person minimum is required for after hours.  Payment is required at the time the reservation is made.   You are welcome to bring in food and drink for your group, just let us know so we can have an area prepared.  
To schedule call us at 309-966-3495 or email teresa@pumpkinglass.com
Reviews