Pietersite Cabochon, Long Teardrop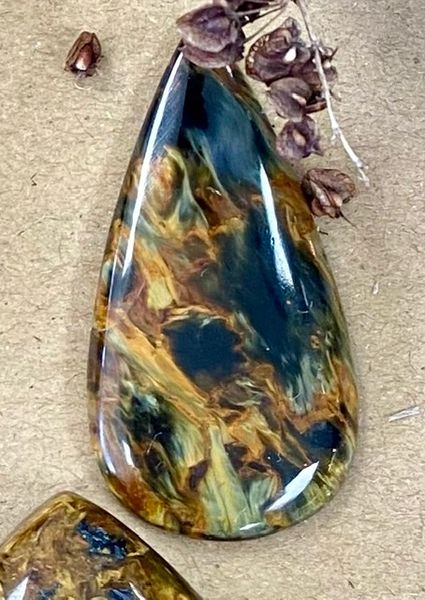 Pietersite Cabochon, Long Teardrop
Get this high quality Pietersite cabochon from South Africa! The silky luster is absolutely beautiful displaying small, thread like streaks of light. This is a one-of-a-kind - you will receive the exact stone pictured. As an option, we can wrap it with sterling or copper wire to make it into a one-of-a-kind pendant - see example in picture 4!
Pietersite is only found in Henan Province, China, and Namibia, South Africa.  Pietersite body colors include blues, which range from light or grayish blue to dark midnight hues, red, gold, orange and brown with swirls of crocidolite which can appear golden, yellow, orange or fiery red.  The inclusions of crocidolite increase its value since they exhibit a characteristically beautiful and chaotic chatoyancy. 
Pietersite is sometimes referred to as "the tempest stone", possibly because of its stormy appearance. It is thought to possess a highly-charged energy that enhances focus and personal will. Pietersite is said to provide protection from the elements and encourage calmness. It is believed that pietersite can help to cure addiction and boost self confidence. Physically, pietersite is thought to balance the hormones, blood pressure and body temperature.

Reviews