Alhambra Woven Bracelet Kit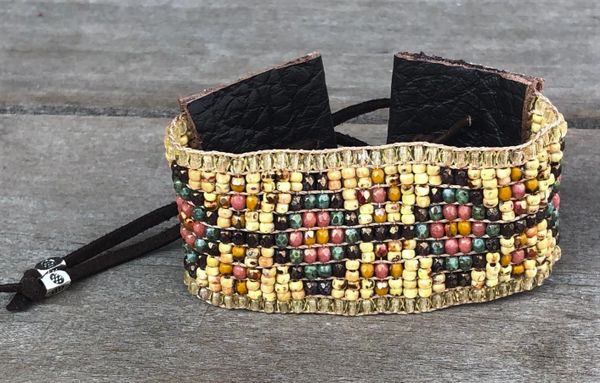 Alhambra Woven Bracelet Kit
Seed beads in size 8/0 (Miyuki or Toho) and 3mm Czech firepolish beads make this a breeze for beginners to weave up.  Butter soft leather is then added to the ends for a rustic, casual finishing touch with a unique adjustable sized button & loop clasp.  All materials for the bracelet and illustrated instructions are included.  Supplies required that are not in the kit are listed below.  This kit is not a "how to weave" tutorial, just directions for how to make this particular bracelet.  Users will need to refer to the directions that came with their loom for basic waving instructions.
Skill: Beginner Loom Weaving 
Supplies required: 
·         Scissors or wire cutters
·         Toothpick or plastic knife
·         3-4mm hole punch that can be used for leather
·         Rick's or Little Ricky Beading Loom   Ricks Two Step Beading Loom
·         E6000 or other silicone (flexible) glue
·         Ruler
·         Heavy book or bench block
·         2" scrap of thin wire or heavy thread
Free Shipping only applies to kit orders in the continental U.S.  If ordering outside this area, we will contact you with shipping amount after placing your order. 
Reviews