Amatos Woven Bracelet Kit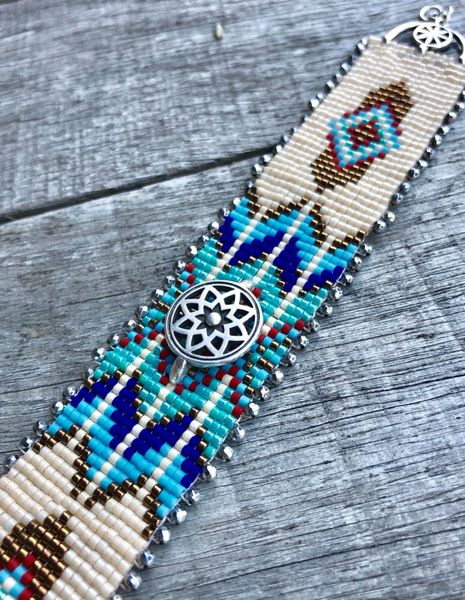 Amatos Woven Bracelet Kit
Miyuki Delica beads make up the fabric of this Native American style motif with an integrated centerpiece and matching bracelet ends.  Trimmed in faceted 2mm hematite beads for just a touch of sparkle. Soft and light-weight, this will become an every day favorite.  Kit includes illustrated by instructions, weaving chart, Delica beads, Beadsmith Cymbal ends and center connector, Tierracast lobster claw, rhodium plated hematite beads, jumprings, OneG thread and needle.

Skill: Intermediate Loom Weaving - requires that students are proficient at beginning weaving as this bracelet used size 11 Delicas with 18 strands of warp
Tool requirements:
-Kit directions are written for the Rick's Beading Loom   Ricks Two Step Beading Loom
-scissors
-chain nose pliers for opening jump rings
Free Shipping only applies to kit orders in the continental U.S.  If ordering outside this area, we will contact you with shipping amount after placing your order.

Reviews