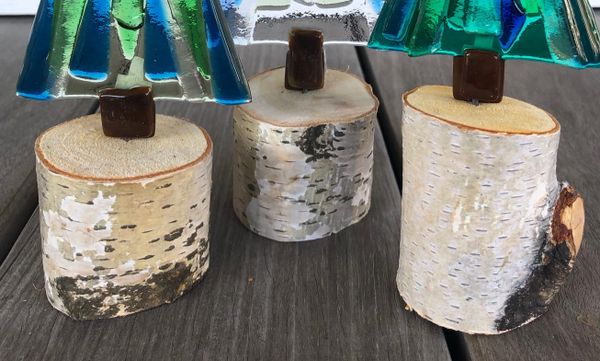 Birch Glass Display
Create a magical Christmas Tree forest with our birch logs to display our glass trees!  Kiln dried birch logs are cut and drilled to hold your choice of one, two, three or five of our fused glass Christmas trees.  The smallest single holed log stands vertically. between 1 and 1 1/2" tall.  The longer logs lay horizontally and measure 3"-12" based on the number of holes drilled for trees.   These horizontal logs are shaved flat on the bottom to rest securely on your table or mantle.  As these are natural products, each log is unique complete with bark imperfections and knots!
Please specify your choice of size at the top under "Number of Holes".
We can not add different shipping amounts for the individual log sizes here because of limited website capabilities.  The total shipping you see will be adjusted to actual shipping charges when we ship your package and may result in a credit to your method of payment.
Reviews