Bohemian Rhapsody Necklace Kit & Tutorial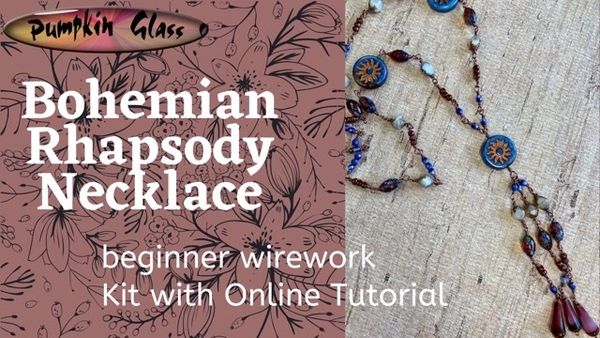 Bohemian Rhapsody Necklace Kit & Tutorial
Learn beginner wire working skills to construct this gorgeous, long tassel necklace by making wire links with a variety of Czech glass beads.  A truly bohemian necklace in materials and design!  The sparkling tones of  these 4 kits and two are even prettier in person!  Use the sliders on the photos to see examples of the kit choices.
Click here to see the tutorial preview:
To construct this necklace, you will use wire to make a wire wrapped loop chain using each of the beads.  The kit includes wire, all beads, the clasp, illustrated written directions and the downloadable or streaming video tutorial. The video tutorial is also sold separately without a material kit. A link will be emailed to you after purchase to allow access on YouTube.  Make your choice in the drop down at the top of the listing.
Skill:  Beginner Wirework 
Ages: recommended for age 15 and up
Tools Required: (all are available on this site under "Tools") 
- wire cutters (preferably flush cutters)
- round nose pliers or 6-step pliers
- chain nose pliers or bent chain nose pliers
- ruler or tape measure
Optional:
- bead mat
Free Shipping only applies to kit orders in the continental U.S.  If ordering outside this area, we will contact you with shipping amount after placing your order.
Reviews