Crystalline Flower Memory Pendant (small)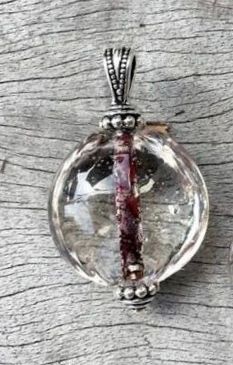 Crystalline Flower Memory Pendant (small)
This flameworked glass memory bead is created by hand as a unique holder for a tiny amount of ashes or flower petals from a loved one.  Each bead measures 3/4" tall and wide not including the hanger.  Beads are custom, made to order.  Allow 2 weeks after we receive your ashes/flowers for creation.
Cords, chains or key rings shown are not included in this price.  Please use the "custom text" box to tell us the color glass you would like for the bead (clear is shown).

Each bead is made with compassion and handled with dignity.  Our beads are created by hand one at a time in the color combination you choose.

Reviews