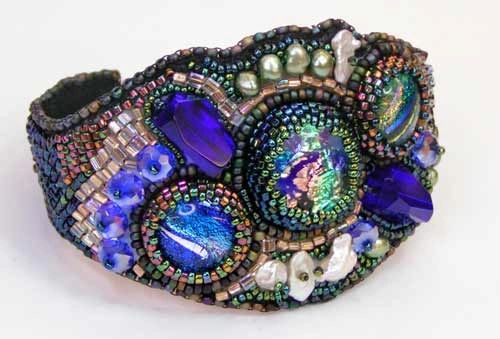 Diva Bracelet 10/25
Make this cuff bracelet with bead embroidery techniques using glass beads, freshwater pearls, crystals, and handmade fused glass cabochons. Each bracelet is one of a kind due to variations in pearls and fused glass focals to materials used in the picture may not be included in the kits. 
Skill: Intermediate Bead Embroidery; Students new to bead embroidery can take this without bead embroidery experience if they know how to do circular peyote.
Class Fee: $25 due upon registration
Kit fee: $38 approx; minus a 10% class day discount 
Date: Thursday, Oct 25th, 6:00pm - 8:30pm
Instructor:  Teresa Kodatt

Students will not finish this bracelet during class time but will learn all skills necessary to finish at home.

Reviews