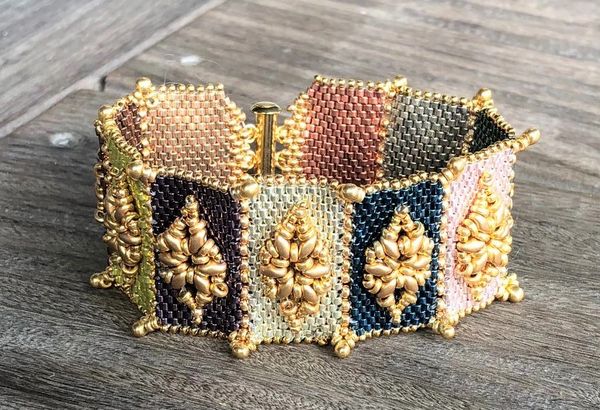 Duchess Bracelet 10/11
Want to learn the skills to make this regal bracelet from Beadwork Magazine?  We can teach you!  Odd count peyote with embellishment can be confusing, so we will step you through it as you construct the components for this bracelet!
Skill: Intermediate Stitching- requires students have made other bead stitching projects, are able to add and end thread in their work.  Peyote, even count, ability would be a big help.
Class Fee: $25 due upon registration

Kit fee: $tbd ; Requires Beadwork magazine, Oct/Nov 2018.  Please let us know if you will need so we can include it in your kit.
Date: Thursday, Oct 11th, 6:00am - 8:30pm
Instructor:  Jeannie Mulligan
Students will not finish this bracelet during class time but will learn all skills necessary to finish at home.
Reviews