Feather Stranded Earrings Kit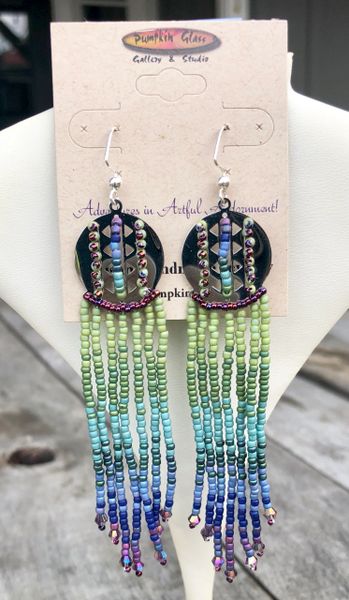 Feather Stranded Earrings Kit
Adorn your ears with these hand stitched earrings made of wispy strands of seed beads.  Each strand is a delicate blend of highly pigmented, matte finished beads tipped with a 3mm crystal.  The metal piece at the top is a high quality Beadsmith Centerline link in rhodium plate, gold plate or rose gold plate based on your metal color choice.  Earring length from the top of the ear wire to the bottom of the longest crystal is approximately 4" as written, but you can of course make them shorter.
Skill: Beginner Stringing and Wirework - this is not difficult to make but does require good eyesight and patience as they are small, size 11 beads.

Kit Includes: 
Fully illustrated instructions to string the earrings 

High quality hardware in rhodium, yellow gold or rose gold plate.

Hypo-Allergenic ear wires included in matching sterling silver plate, gold plate, or rose gold filled.  Prices vary based on the finish you choose when ordering your kit.

Size 11 and size 15 seed beads from Toho and Miyuki

3mm crystal bicones

OneG thread

size 11 needle
Tools Needed: 
chain nose pliers to add ear wires

scissors
Hypo-Cement, clear nail polish or similar glue to secure knots

optional: Bee's wax for thread
Ages: 15 and up

Free Shipping only applies to kit orders in the continental U.S.  If ordering outside this area, we will contact you with shipping amount after placing your order.

Reviews