Flowering Spring Fused Glass Trees 5/5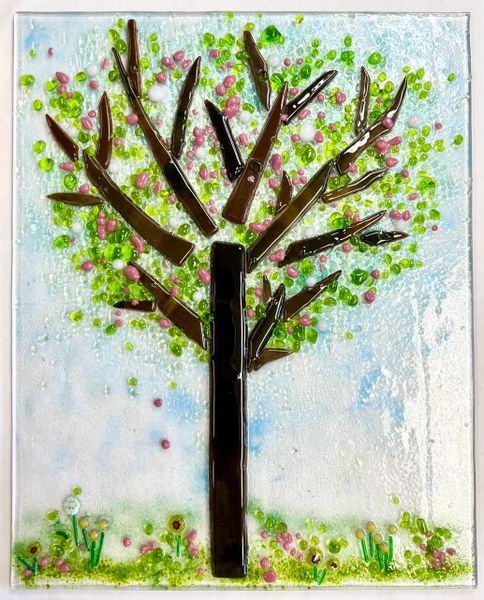 Flowering Spring Fused Glass Trees 5/5
Create a beautiful depiction of a flowering Spring/Summer tree from fusible glass. Students will cut the glass for the tree and add leaves and flowers with glass frit, millefiori and stringer. Finished pieces can be hung on a wall or window or put in a stand.
Note: Some of these kiln fired pieces won't be ready for pickup until May 19-21.
Skill:  Beginning Glass Cutting and Fusing
Class Fee:  $25
Kit Fee:  $17 include the base glass (clear 10" x 7 1/2") and the brown glass to cut for the tree and branches.  All frit/millefiori is sold separately so students can choose how much and what colors they wish to use. The example pictured was $31; Copper fused in rings and cable for window display is included in the kit fee.  Stands and other hanging hardware are optional choices and not included in the price.
Date: Thursday,  May 5th, 6:00pm - 8:30pm
Ages:  16 and up
Reviews