Dainty Tube & Gemstone Necklace Make & Take 2/7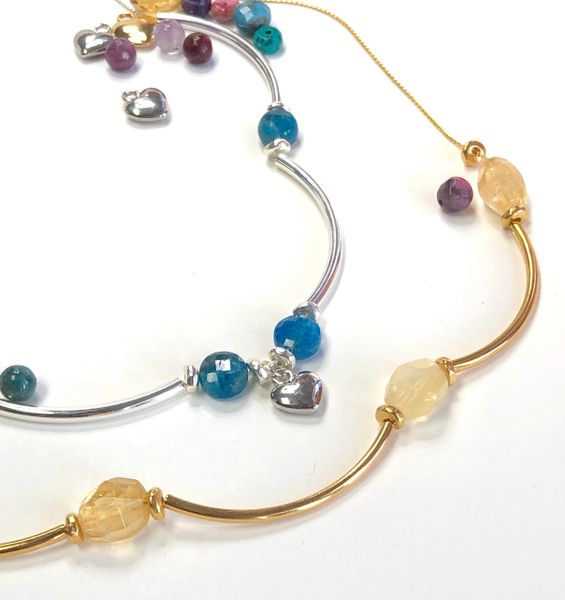 Dainty Tube & Gemstone Necklace Make & Take 2/7
Help us celebrate our very first "First Friday" at our new location, North Art Studios!  Make this dainty chain necklace with your choice of stones (lots to pick from; examples shown using citrine and apatite), and design it with or without a heart.  Chain and findings are all high quality, fine silver or 18kt gold plated, nickel free brass.  These beauties are a sparkling wonder and perfect for Valentine's Day.  Come see our new digs, meet the other artists and explore the rest of the studios here at this fun event! 
Skill: Beginner Bead Stringing
Class Fee: FREE
Kit Fee: $13.99 to $20.49 For an 18" necklace plus an additional charge for the stones you choose to use.  Stone vary in price starting at $0.20 each.  A longer necklace can be made for an addition chain charge.
Date: Friday, Feb 7th, 5:00pm- 8:00pm; come in anytime between these hours and we will show you how to make the necklace. One necklace will take about 20 minutes to make.
Ages: 13 and up (younger children are welcome with an adult helper!)

Kits are limited!  If you plan on coming, please sign up here and choose your metal color in advance.  We will set it aside for you!
Reviews