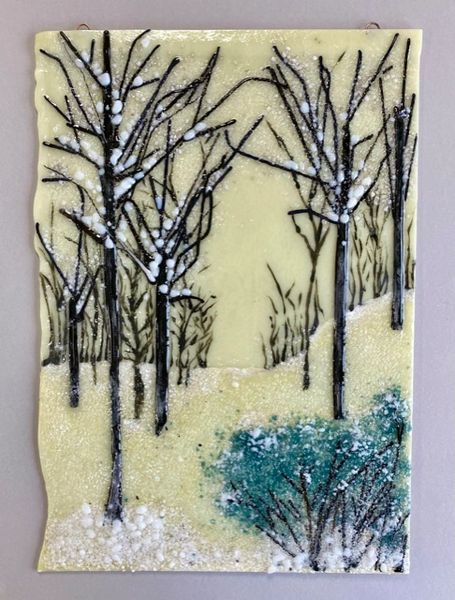 Ivory Snowy Landscape #1
The stillness and beauty of the frozen world around us has a special magic that I can gaze at for hours.  This piece is handmade by Teresa Kodatt on an opal ivory piece glass with hand cut layers of glass and glass frits, along with painted details to create a beautiful, frozen landscape.  The glass allows light through to dramatically change the look of the landscape and give it a golden glow.  The piece measures approximately 15 1/2" high and 10" wide.  
This piece has copper rings at the top between the layers of glass for hanging in a window.  We can add braided cable to the rings to allow for a 12" drop from your window frame (you will need hooks in the frame to hang from) or we can add three, 1/2" stainless steel stand-offs to the back to enable wall mounting (see picture 4&5).  Please choose your preference under "Display Type".

Size:  approx 15 1/2" x 10 1/2"
Reviews