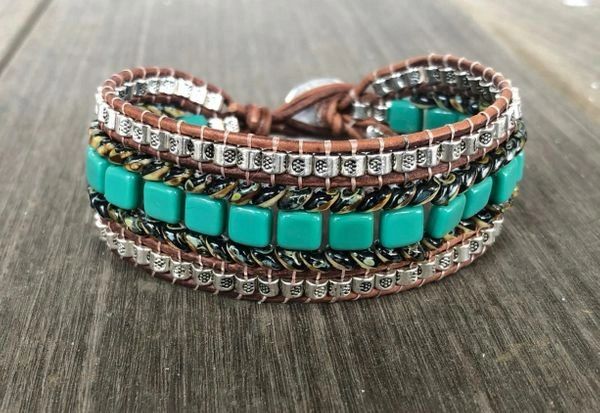 Just Duet Bracelet Kit
Two color duet beads give this woven bracelet a dimensional feel that I love combined with the glass two hole tiles.  Pewter beads and leather used as the warp add to the on trend style and add to your loom weaving skill set.  Such a cool, casual bracelet for a very reasonable kit price!  
The kit includes all materials to make the bracelet, but you will need Rick's Beading Loom,  Ricks Two Step Beading Loom, a pair of scissors, and glue for knotted thread.  The design of the pewter button closure will vary, but will be a high quality, silver plated button.
Skill: Intermediate loom weaving - students need to be able to make a beginner level loom woven bracelet without assistance to be successful making this project. 
Additional kit colors available in-store and/or upon request.
Free Shipping only applies to kit orders in the continental U.S.  If ordering outside this area, we will contact you with shipping amount after placing your order.

Reviews