Leaf Cluster Pumpkin Necklace Kit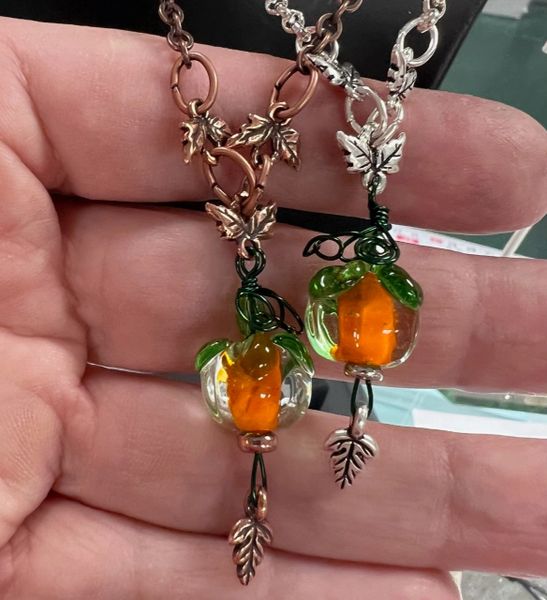 Leaf Cluster Pumpkin Necklace Kit
Make this Fall necklace with our beginner wirework kit in your choice of copper or silver plate from our high quality, jewelry findings from Tierracast in California. Use a handmade glass pumpkin bead and a little green wire to construct a curly, twirly, leafy, vine enhanced pendant! Lots of adjectives apply!
To construct this necklace, you will connect the chain to the leafy cluster links with jump rings, then use wire to make the pumpkin bead into a pendant and attach it to the necklace using a wire wrapped loop. The kit includes wire, glass pumpkin and crystal beads, chain and all findings plus illustrated written directions. 
Skill:  Beginner Wirework 
Ages: recommended for age 15 and up
Tools Required: (all are available on this site under "Tools") 
- wire cutters (preferably flush cutters)
- round nose pliers 
- chain nose pliers or bent chain nose pliers
- ruler or tape measure
Optional:
- bead mat
Free Shipping only applies to kit orders in the continental U.S.  If ordering outside this area, we will contact you with shipping amount after placing your order.
Reviews