Make & Take - Intermix Heart Bracelet 2/2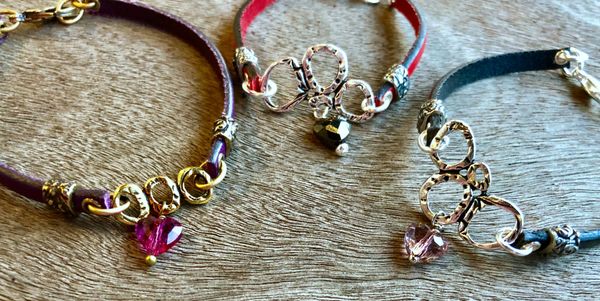 Make & Take - Intermix Heart Bracelet 2/2
Join us for our first Friday of the month Make & Take project! Make a leather bracelet in antique silver or brass featuring a Swarovski crystal "love me" heart for only $10 (note brass pictured is a smaller alternative; the larger brass piece like the silver will be available)! Students will choose from leather and crystals in several colors and learn how to set eyelets, use jump rings and headpins to make this bracelet. Perfect for the month of love!
Skill: Beginner Wirework
Class Fee: FREE
Kit Fee: $9.99 per bracelet
Date: Friday, Feb 2nd, 4:00pm - 7:00pm; come in anytime between these hours and but please plan on being finished by closing time at 7:30pm. Plan on one bracelet requiring about 30 minutes to make.
Ages: 12 and up (younger children are welcome with an adult helper!)

Kits will be limited! If you plan on coming, please be courteous and sign up here in advance so we are prepared with plenty of materials for everyone!
Reviews