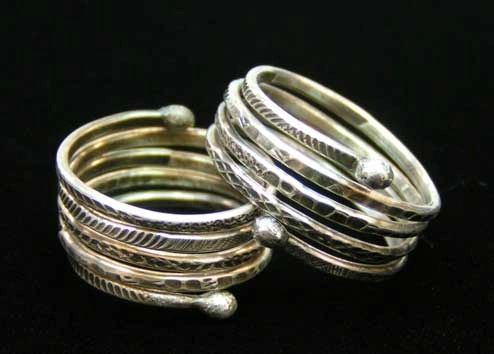 Ring a Ding Class
Need a ring for every finger?   Wrapped rings are great projects for those of us with short attention spans because they work up fast!  Students will learn to texture fine silver wire (99% silver) using multiple texture plates, ball the ends with a torch, blacken with liver of sulfur, polish and then shape the ring on a mandrel.
Class Fee: $25
Kit Fee:  $22
Age: Adult
Time: approximately 1 1/2 hours

A minimum of 4 people is required for this class during normal business hours, and an 8 person minimum is required for after hours.  Payment is required at the time the reservation is made.   You are welcome to bring in food and drink for your group, just let us know so we can have an area prepared.  
To schedule call us at 309-966-3495 or email teresa@pumpkinglass.com
Reviews