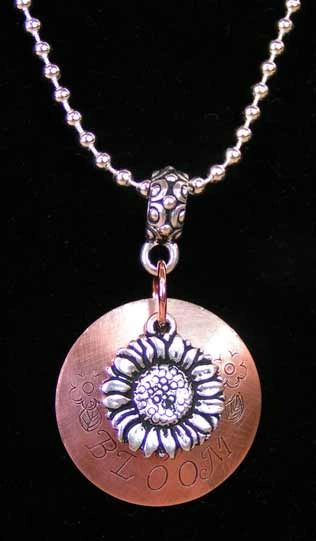 Stamped Pendant Class
Stamped pendants are all the rage! Learn to use a metal blank and steel stamps to put your own favorite word on a pendant, embellish with texture, dome it, and hang it on a ball chain necklace.  We have many letter styles and designs for you to choose from to customize your piece.  Price includes copper blank, but sterling can also be substituted at an additional cost.  Many other charms to pick from also.

Class Fee: $10 per person for a 1 hour class

Kit Fee:
  $17 for one pendant on a necklace chain.  Additional pendants can be made as class time allows for the price of the pendant materials (generally $6 each).
A minimum of 4 people is required for this class during normal business hours, and an 8 person minimum is required for after hours.  Payment is required at the time the reservation is made.   You are welcome to bring in food and drink for your group, just let us know so we can have an area prepared.  
To schedule call us at 309-966-3495 or email teresa@pumpkinglass.com.
Reviews