Warm Hearted Snowman - Fused Glass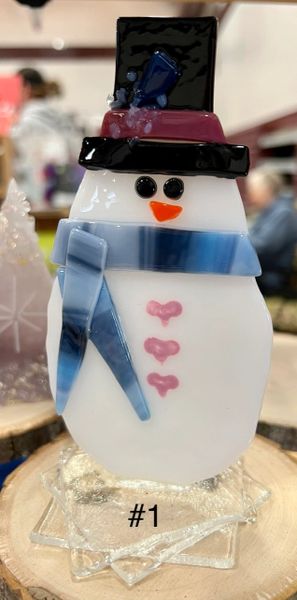 Warm Hearted Snowman - Fused Glass
Give a sweet snowman with a "warm heart" to someone you love! Handmade and designed by Teresa Kodatt, each snowman is a one-of-a-kind personality made from hand cut glass. The pieces are layered and then hand painted with tiny details. We precisely fuse the layers of glass together in a kiln at just the right temperature to make them sturdy. Each snowman is standing on a piece of "ice" also handmade and fused from layers of clear glass.
Each snowman measures approximately 5 1/2" tall and 3" wide. Choose the snowman of your preference from the drop down options at the top. Shipping charges may be lower than shown if purchasing more than one snowman because they can be combined in the box.  We will refund any overage on actual shipping costs.
Check back often for new critters or contact us for the size you wish and I will do my best to make it for you!
Reviews