Winter Wooded Landscape Fused Glass Class 2/26- afternoon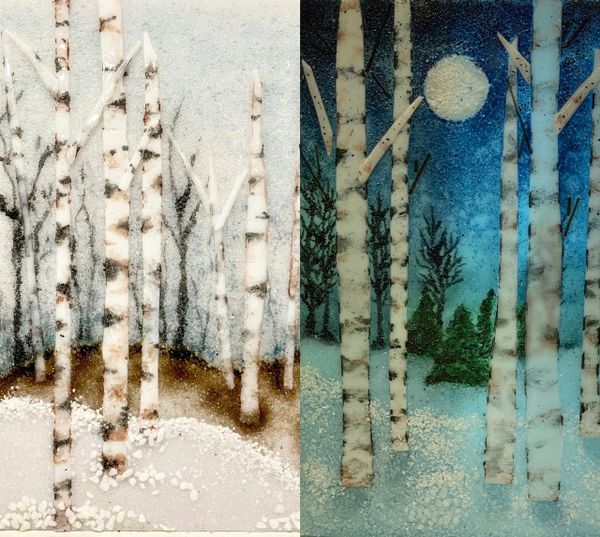 Winter Wooded Landscape Fused Glass Class 2/26- afternoon
The stillness and beauty of a frozen Winter landscape holds a special magic that I can gaze at for hours.  Join us to capture it in glass in the fusing class.  We will be cutting glass pieces to make the trees, using enamels to paint details and "painting" the landscape using three different sizes of glass frit!  Finished pieces can be hung on a wall or window or put in a stand.  Students will use clear or white/clear streaky base glass to build a daytime scene or blue glass for a nighttime scene. Choose your color and size (see pricing below under Kit) in the "Base Glass Color" drop down above when you register for the class to allow us to have the glass cut and ready for you. The pieces won't be ready until the next week for pick-up to allow for fusing.
Skill:  Beginning Glass Cutting and Fusing
Class Fee:  $25
Kit Fee:  $34 (10" x 7 1/2" size) or $65 (15 1/2" x 10"); Prices are for glass and design shown. Copper fused in rings and cable is included in the kit fee.  Stands and other hanging hardware are optional choices and not included in the price.
Date:  Saturday,  February 26th, 2:00 pm - 4:30pm
Ages:  16 and up
Reviews