Wraps Around My Heart Kit & Tutorial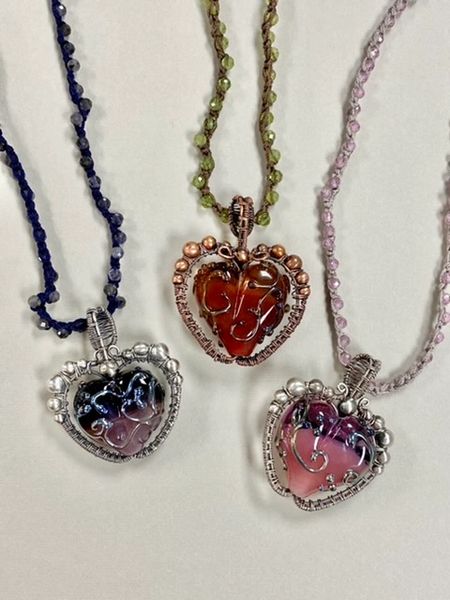 Wraps Around My Heart Kit & Tutorial
Handmade flame worked glass hearts by Teresa Kodatt take center stage in this wire wrapped pendant.  Choose your heart and metal wire type (copper or sterling) and learn beginner wire weaving skills while fashioning this unique pendant.  Necklace cord materials are NOT included.
This kit contains illustrated written directions to make this project along with the lampwork heart of your choosing, wire, and metal beads.  The video tutorial is separate and can be ordered without the material kit under the "heart choice" drop down or added to the materials under the "add online video tutorial" drop down.  A link will be emailed to you after purchase to allow access to the video which can be streamed or downloaded.
Skill:  Beginner Wirework - wire weaving
Ages: 15 and up
Tools Required: (all are available on this site under "Tools") 
- wire cutters (preferably flush cutters)
- round nose pliers or 6-step pliers
- chain nose pliers
- ruler or tape measure
Optional:
- beading awl
- liver of sulfur
- 0000 steel wool or a buffing block
Free Shipping only applies to kit orders in the continental U.S.  If ordering outside this area, we will contact you with shipping amount after placing your order.
Reviews