Fused Glass Pumpkin Ornamental Stake- 24"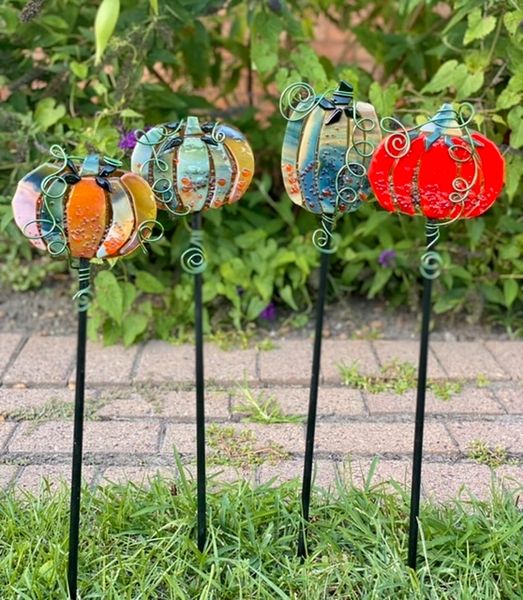 Fused Glass Pumpkin Ornamental Stake- 24"
These sweet pumpkins made with fused glass are the perfect touch of color and whimsy to your planters, garden and yard decorations, indoors or outside, all through the Fall!  Sooooo cute in a pot with mums!
Each pumpkin is individually hand cut and created by me in my studio with unique glass, therefore they are all one-of-a-kind.  The sturdy, but lightweight black fiberglass stake, adheres to the glass with a waterproof, heatproof adhesive, and stays securely in the ground. 
If the pumpkin you want is out of stock, allow 7 days for me to create one for your order before shipping/pickup.
After order, we will contact you to arrange pick-up from our studio location in Peoria or for shipping, packages will ship via Priority Mail - Continental U.S. shipping locations only.
Dimensions (Glass) Approx.  5"W x 4"H
Overall Height Including Fiberglass Stake approx. 24" tall
Care Instructions:  Always treat your glass stake with respect as it is made of glass.  Avoid dropping or hitting against hard surfaces.  To insert in soil, start the hole with a stick, ruler, or garden tool.  DO NOT jam the stake directly into the soil and/or DO NOT hammer into the dirt.  If the stake gets dusty or covered with pollen, just simply hose it off.  If it's really muddy or dirty, mix a drop of Dawn dishwashing liquid in water, gently rub with a sponge, then rinse off to obtain a streak free shine.  Plus, Dawn is safe for the environment.  Although temperature resistant, in freezing temperatures, I recommend that you bring the stake indoors, and enjoy displaying it in your house plant containers for the winter months. 
Reviews