Grandmother's Pin Reimagined Class 2/8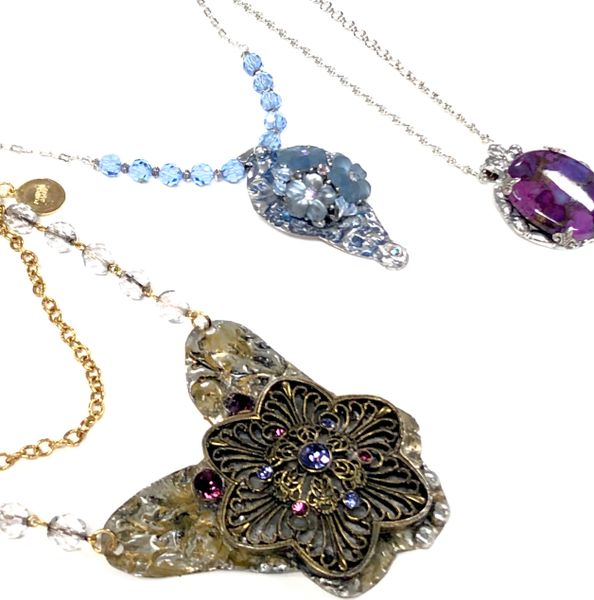 Grandmother's Pin Reimagined Class 2/8
February is the perfect month for jewelry with sentiment.  Remake an vintage pin, clip, earring, rhinestone treasure or thrift store find into a pendant for a necklace.  Students will design a base, cut the metal and use soft soldering techniques to attach their own pieces.  Various patinas can then be applied as desired to enhance the design. Students will finish their pendants in class but will probably not have enough time to create a necklace other than adding a chain.
Skill: Beginner Soft Soldering and Wirework 
Class Fee: $25 due upon registration 
Required:  Each student must bring their own vintage piece to use.  If you don't have one, we do have some prong/bezel settings and stones that can be purchased to use (see the purple turquoise pendant above as an example).  Keep in mind when choosing a piece to use that it may become discolored and will be altered from it's original form.
Kit Fee: $5 for solder materials to make the pendant base; rhinestones, crystals, chain, etc... are sold separately as each project will be individually unique.  
Date: Saturday, Feb 8th, 10:30-1:00pm
Ages: Adult
Instructor: Teresa Kodatt
Reviews