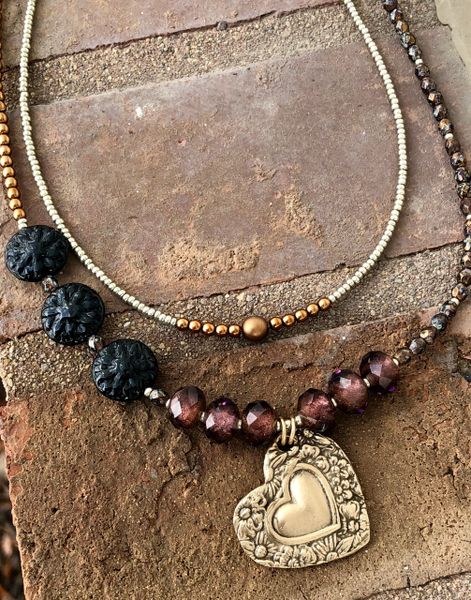 All Heart Necklace Kit
String this two stranded necklace using handmade faceted glass beads, Czech pressed glass & Firepolish, glass pearls and Miyuki seed beads.  A modern take on a romantic necklace!  The heavy-duty magnetic clasp and looped ends from Tierracast make a stunning, easy to fasten closure.  Use your own pendant or one of my golden or white bronze pendants available on this site.  String material is jeweler quality, 49 strand flexible beading cable with 2x2 heavy walled tube crimps and crimp covers.
Skill: Beginner Stringing & Wirework
Kit Fee: $31 includes all necklace materials except the bronze pendant.  As a bonus, directions to make an optional pair of earrings are included.
Requires:  
wire cutters
crimping pliers
2 chain nose pliers for opening and closing jump rings
a bead mat is recommended to put your beads on


Free Shipping only applies to kit orders in the continental U.S.  If ordering outside this area, we will contact you with shipping amount after placing your order.

Reviews