Fall Pumpkin Wrapped Pendant Kit & Online Tutorial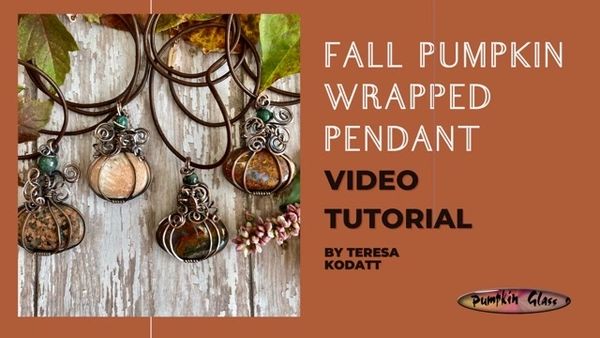 Fall Pumpkin Wrapped Pendant Kit & Online Tutorial
Take your beginner wirework skills up a notch by making this unique wrapped Fall setting for a stone cabochon!  Use square and half-round wire to fashion a setting for a stone without holes then form "vines" to finish your pumpkin!

Skill: Beginner Plus Wirework - Students that have some wirework experience will have an advantage as it is a little harder to hold on to the stone while forming the wire around it.

Tutorial & Kits: Available for purchase with materials including tutorial access or just the tutorial only.  After purchase of the tutorial, a YouTube link for forever viewing or download wil be provided.  Kits ship free! (in U.S. only). Click below to see a preview:
Kits include: 
 square and half round copper wire
20" 2mm leather cord with end caps and clasp
stone cabochon (your choice shown in picture 4, chose from the drop down kit listing at the top )

bead for stem

Illustrated written directions

downloadable or streaming video tutorial via YouTube link



Ages: recommended for age 15 and up

Tools Required: (all are available on this site under "Tools") 
- wire cutters (preferably flush cutters)
- round nose pliers
- chain nose pliers or bent chain nose pliers
- bail making pliers or a smooth, 6mm object to make the bail like a pen or knitting needle
- ruler or tape measure
- painters tape
Optional:
- bead mat
Free Shipping only applies on orders shipped to the continental U.S.  If ordering outside this area, we will contact you with shipping amount after placing your order.
Reviews