Together Wrapped Bracelet Kit & Tutorial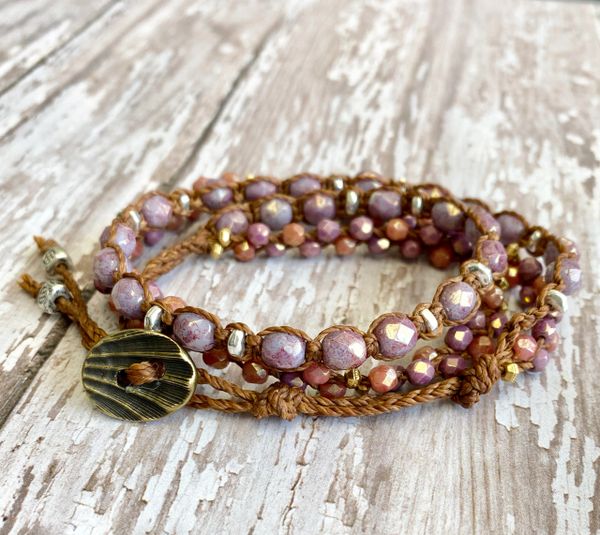 Together Wrapped Bracelet Kit & Tutorial
Two joined strands made separately with different beads and techniques but together on one bracelet, compliment each other beautifully.  Isn't that true of all good relationships?  Make this two stranded bracelet using colorful Czech glass beads with many color combinations to choose from!  You will learn to use square knotting (think Chan Luu style bracelets) and braiding techniques.  A wonderful gift and fast to make!
Kit Include:
.8 

waxed polyester cord
metal beads (high quality pewter plated in gold, copper or sterling depending on kit, from Tierracast, a US manufacturer)
button (pewter from Tierracast, plating depends on kit chosen)
Czech glass 6mm and 4mm beads
small piece of bee's wax
written and illustrated directions
Online video tutorial; After purchasing, I will send you a link for access to the video that will allow you to unlock it for viewing or downloading.
Tools Required:
When buying a kit, be sure to include your KIT COLOR choice from the drop down box!
Skill: Beginner Knotting and Braiding
Ages: 14 and up

Free Shipping only applies to kit orders in the continental U.S.  If ordering outside this area, we will contact you with shipping amount after placing your order.

Reviews