Winter Scene Fused Glass Class 2/20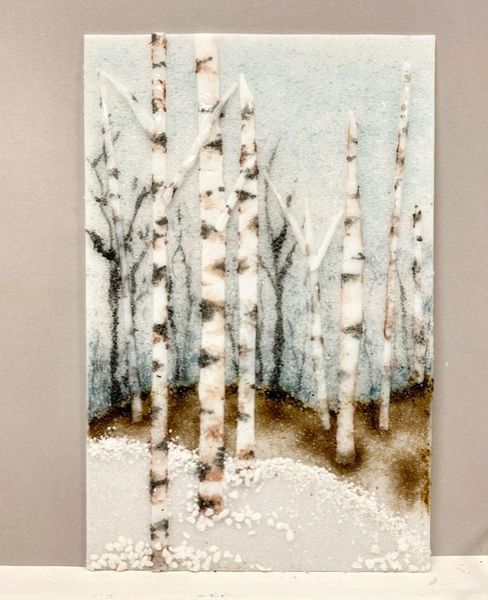 Winter Scene Fused Glass Class 2/20
The stillness and beauty of the frozen world around us has a special magic that I can gaze at for hours.  Join us to try and capture it in glass in the fusing class.  We will be using a variety of glass mediums.  Finished pieces can be hung on a wall or window or put in a stand.  Various base colors to build your scene on are available.  If you would choose your color and size under "Base Glass Color" in this listing, it will allow us to have the glass cut in the color that you would like to use, and we would appreciate it!
These fused pieces won't be ready until the next week for pick-up to allow for fusing.
Skill:  Beginning Glass Cutting and Fusing
Class Fee:  $25
Kit Fee:  $40 (10" x 7 1/2" size) or $56 (15 1/2" x 10"); Prices are glass and design as shown. Designs with clear, white or light blue backgrounds and/or using less stringer design(tree branches) will be lower. Stands and hanging hardware are optional and not included.
Important note: The ivory detailed design shown in the 15 1/2" x 10" size may take students longer than class time allows. They will be able to come back and finish their work if needed on another day. 
Date:  Saturday,  February 20th, 10:30am - 1:30pm
Ages:  16 and up
Reviews